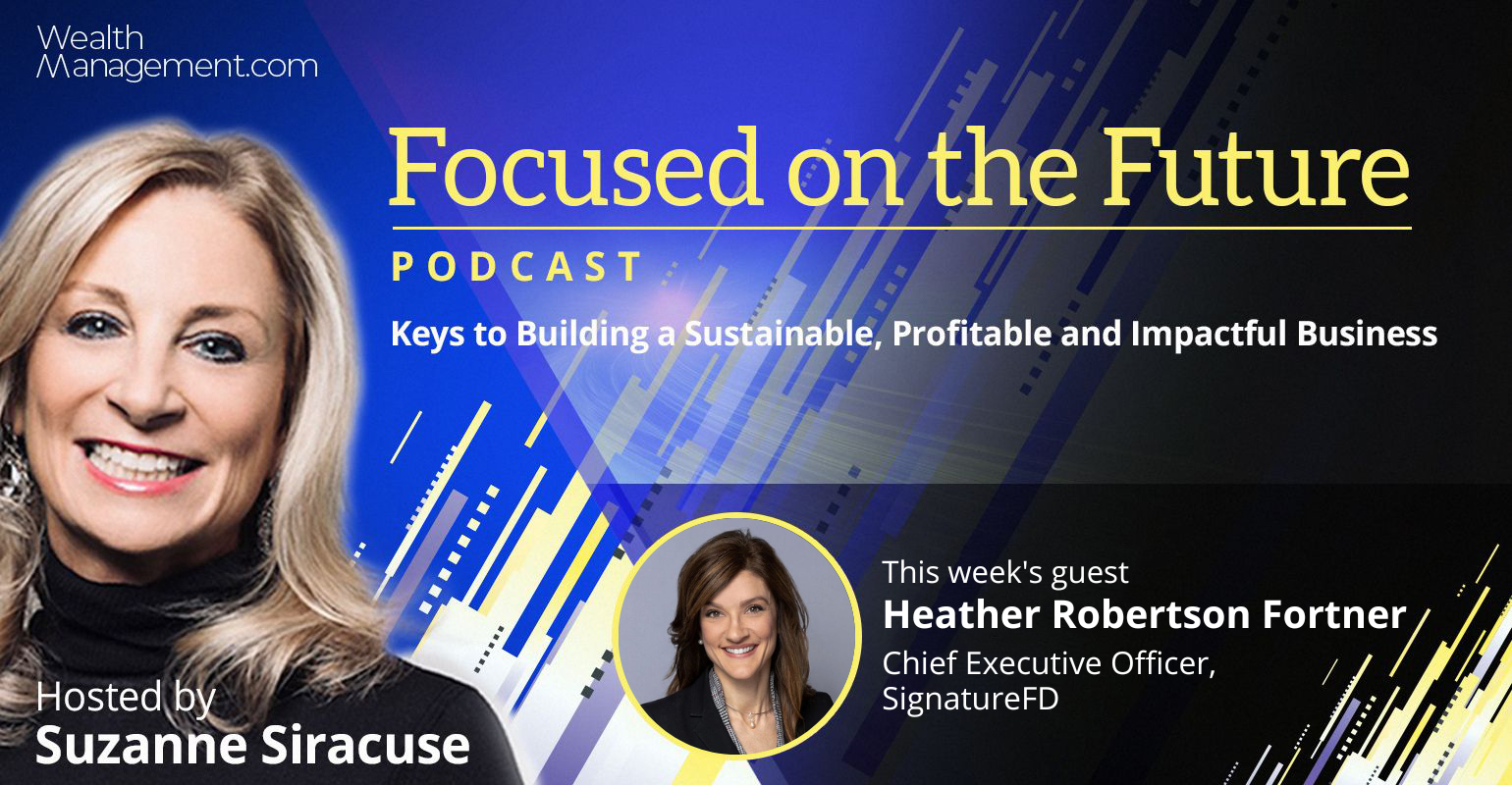 Focused on the Future: Heather Fortner: Her Journey, Lessons and Advice on Making it to the C-Suite
Focused on the Future: Heather Fortner: Her Journey, Lessons and Advice on Making it to the C-Suite
In the latest episode of the new podcast series, Focused on the Future, veteran industry leader Suzanne Siracuse talks with Heather Fortner, CEO of SignatureFD, about the importance of understanding people's motivations,  the evolution of a firm's messaging and why inclusion is key to a positive culture.
Specifically, Heather discusses:
Her journey from intern to CCO to CEO

Why her degree in professional counselling was the most important thing she has done.

Her firm's unique website messaging and how it came about.

The one question she was asked influenced how she builds and develops her teams.
 Connect With Suzanne Siracuse:
Connect With Heather Fortner:
About Our Guest:
Heather is the Chief Executive Office and Chair of the Board of SignatureFD, an integrated and comprehensive wealth management firm with offices in Atlanta, Georgia and Charlotte, North Carolina, recently named to the Inc. 5000.
During her twenty-year tenure at the firm, Heather has created and executed strategies that have exponentially grown SignatureFD's AUM from $250M to over $7B.  Her unwavering commitment to leading and building teams that exhibit excellence in leadership with heart has garnered her national recognition. Among these accolades, Heather has been awarded CEO of the Year by Wealth Management Magazine in 2021 and Most Admired CEO by the Atlanta Business Chronicle in 2022. In 2023, she was selected to the Leadership Atlanta Class of 2023 and named to the Titan 100 List. 
She is a longstanding advocate of DEI initiatives both at SignatureFD and within the wealth management industry broadly. Her focus on empowering women to take on leadership positions has helped SignatureFD achieve a 90% female executive leadership team. Her belief that every person has a purpose in life, to which wealth properly aligned can help support, is the cornerstone of SignatureFD's client promise, Net Worthwhile™.
Resources:
Podcast: Play in new window | Download | Embed